Welcome to our world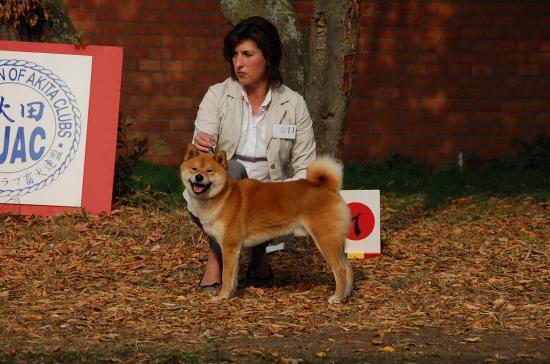 Welcome to our world of doglife.
The lovely breed of shiba inu changed our lives completely.
Their beauty takes us all around Europe and made a succesful career possible. We are very grateful to the breeders who gave us these beautiful dogs.
Our male Ch. Jaklho Sir Tristan "shogun" is Croatian, Danish, French, Swiss, Luxemburg, Dutch, International and German VDH champion. He became Belgian Winner 2009 at the Brussels Dog Show under the famous judge and shiba breeder Mrs. Liz Dunhill and got the title Europasieger 2010 at the dogshow of Dortmund recently.
On july 25th 2010 Shogun got his 9th title. He became Belgian champion at the dogshow of Liège. Not yet 3 years of age and already so many titles. What a sensation !
Our black & tan female Hi-Jinx Black Agate started her showcareer this year for real and with success. She gathered several championship points in different countries and is on her way of becoming a true champion also.
Recently a third shiba joined us. Her name is Of Flanders Crown Itsuka. She will also start a showcareer very soon.
A bernese mountain dog has joined the pack and lives in perfect harmony with the shibas. he is a descendant of a famous kennel and his father is a great champion.
On this date of april 15th our Shogun has gathered 10 championship titles. He is now Belgian, French, Lux,Dutch, German (VDH), Croatian, Danish, Swiss, Austrian and International champion. He is really a great shiba!
We have kept 2 puppies from Aggie and Shogun: Justy and Jade. They are very promising and we hope they will be as succesful as their parents.