Latest news
13/08/2010 : Happy birthday Shogun !  And to his brothers! 3 years already! As time goes fast, we still remember the day we brought the little fury guy home...

 25/07/2010 : Shogun is Belgian champion ! See the showpage.
 20/06/2010 : Aggie is now a champion: in Varazdin she became Croatian champion. Congratulations to Pat for producing another Hi-Jinx champion.
 22/09/2010 : Happy Birthday Aggie! She is now 2 years.
 10/10/2010: We are proud to announce you Aggie has become a French Champion. This is so great considering this title is very hard to get.
                     After Shogun she also did the job. Thanks to Pat Doescher for producing such a beautiful dog!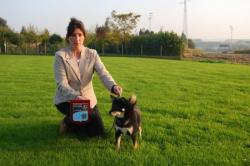 On april 9 th 2011 Aggie completed her International championship in Austria and Shogun became Austrian champion at the same time. We are very happy and 
  proud. This is Shogun's 10 th title! He is one of the most rewarded shibas in Europe!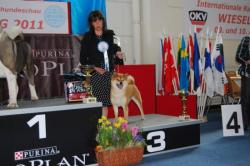 June 2011:
 Shogun is staying at home for a while because out of coat, but Aggie is keeping the winning mood!
 From Wieselburg until now she has gathered 5 more champion titles: Swiss champion, Austrian, German (VDH) , Slovenian and International. We are very proud of our girl. And she had also many Best-of-breeds which is quite a performance for a female and black & tan.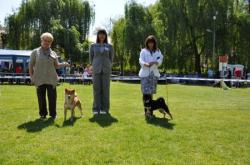 photo: Truus Ribbe
-In Saarbrücken Aggie completed her German Championship.She also obtained every condition for the German Clubchampionship ( DCNH) which is more difficult to get.
-In Paris at the world dog show Aggie again performed very well, she got 4th place with excellent in champion class on 12 females. Justy was 2nd best puppy male.
- On july 24th Shogun won the best of breed at the dogshow of Liège, but Aggie also got CACIB and completed her Belgian championship. This is her 8th title, a great performance for a Black & tan shiba